April 14, 2017
Deadline to submit K-State Green Week participation form is April 17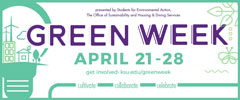 "Green" research groups, student organizations, departments and programs are invited to participate in K-State Green Week, April 21-28. The deadline to submit an organization interest form is Monday, April 17.
Visit ksu.edu/greenweek to volunteer or promote your organization during the week.
For the full event schedule and all things green, please visit ksu.edu/greenweek.