April 13, 2017
APDesign students awarded top prizes in annual Ted and Sue Knapp Delineation Competition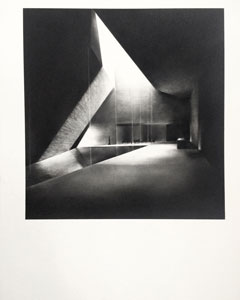 Work by students from Kansas State University's College of Architecture, Planning & Design, or APDesign, for the annual Ted and Sue Knapp Delineation Competition is on display in the Chang Gallery at Seaton Hall through Friday, April 28. The gallery is open from 8 a.m. to 5 p.m. weekdays.

The annual competition was open to all students at APDesign, including those in the articulated program at the University of Missouri, Kansas City. The competition is sponsored by Ted Knapp, a 1964 Kansas State University architecture alumnus, and his wife Sue. Competition awards include $1,000 for best in show-first place. First place in each competition category earns $250, while honorable mention earns $100.

The competition jury included Ted Knapp, principal at TK Architects, Kansas City; Brianna Sprague, graphic designer for APDesign.

"This competition, and the resulting exhibit of beautiful work, remains one of our most important annual events as it showcases the dedication of our students to the craft of representation, said Tim de Noble, dean of the college. "It takes deep dedication to become a design professional. In parallel, these entries reveal each student's intense attention to detail, a solid indication of their commitment to quality in built form."
Winning entries by APDesign students:
Marilina Bedros, second-year student in architecture, Manhattan, first place in the mixed media category for "Photorealism – Perot Museum of Nature and Science," and James Jones, second-year student in architecture, Marion, honorable mention for "Ketteler College."
From out of state:
Alexandra Mesias, second-year student in architecture, Lee's Summit, Missouri, best in show for "The Uncompleted Works of Kahn"; Kamden Ekern, third-year student in interior architecture and product design, Mexico, Missouri, first place freehand color for "La Sagrada Familia"; and Alexander Blair, fifth-year student in architecture, Fort Calhoun, Nebraska, first place in the computer category for "Norwegian Mountain Library" and honorable mention for "Alma Prairie Retreat."
From out of country: Yajie Zhao, second-year architecture student, China, first place in the freehand black and white category for "Building Rendering."