April 13, 2017
Ecuadorian bead weavers to present lectures, conduct workshops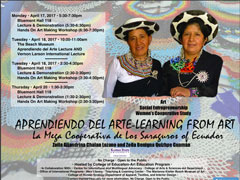 The College of Education Art Education Program is hosting the third Aprendiendo del Arte-Learning from Art Lecture at 10 a.m Tuesday, April 18, in the auditorium of the Marianna Kistler Beach Museum of Art. It's one of four events the Ecuadorian bead weavers will conduct during their time on campus. All events are free and open to the public.
Zoila Quizhpe Guaman and Zoila Alejandrina Chalan Lozano are Quechua bead weavers from Saraguro, Ecuador, and both are members of the globally respected La Mega Cooperativa de Los Saraguros women's cooperative. They will discuss their lives as folk artists, the social entrepreneurship that develops because of folk artists' success, and the dynamics of the women's cooperative in their community. The April 18 lecture also will be a Vernon Larson Lecture for the spring semester.
The following three events, which will be in 118 Bluemont Hall, will begin with a lecture and demonstration, and the last hour is reserved for a hands-on art making workshop:
5:30-7:30 p.m Monday, April 17.
2:30-4:30 p.m. Tuesday, April 18.
1:30-3:30 p.m. Thursday, April 20.
"I'm pleased that our college places emphasis on expanding global awareness," said Trina Harlow, College of Education art education program director. "By bringing these world acclaimed folk artists to the university and surrounding area, we have an opportunity to explore social entrepreneurship, women's cooperatives, and the ability of the arts to expand human understanding."
Collaborators for the folk artists' visit to K-State include the Center for Intercultural and Multilingual Advocacy; the College of Arts art Sciences-art department; the Office of International Programs; Hale Library; the Teaching and Learning Center; the Marianna Kistler Beach Museum of Art; the College of Human Ecology-apparel, textiles, and interior design department; and the College of Education Art Education Program.
For more information about this event, please contact Harlow at tharlow@k-state.edu.