March 1, 2017
Cooper presented with Certificate of Merit at state music teacher's convention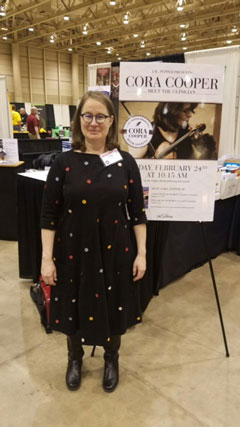 Cora Cooper, professor of music, was honored by the Kansas chapter of American String Teachers Association Feb. 24 at the state music teacher's convention. Citing her work promoting music by women composers, she was presented with this year's Certificate of Merit.
Cooper has compiled and edited a four-volume graded anthology, "Violin Music by Women," which seeks to make performing editions of these compositions accessible to teachers and students at every stage of development. She has also completed the first two volumes of a sister anthology, "Viola Music by Women." Both are published by Sleepy Puppy Press.
"Students and teachers have reacted very positively to the music," Cooper said. "It is a great way to build inclusivity into a repertoire almost entirely composed by men, played by a population that is more than 50 percent female."
Cooper quoted 9-year-old Risa, a violin student in Washington, D.C., "Playing well-known wonderful pieces written by male composers always makes me feel great, but playing unknown, still beautiful pieces written by female composers makes me feel special." Risa performed a piece from the third volume of "Violin Music by Women" at Weill Recital Hall in New York in summer 2015.
Cooper also gave a presentation on the anthology music at the convention, "Evening the Score: Including Violin and Viola Music by Women in Your Solo Repertoire Choices."