February 16, 2017
Apply for the Morse Scholarship: $3,000 for a community-minded summer project or internship
Submitted by Sarah McGreer Hoyt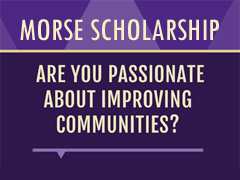 Do you want to make the world a better place? Why not start this summer? K-State Libraries is now accepting applications for the 2017 Marjorie J. and Richard L.D. Morse Family and Community Public Policy Scholarship.
The $3,000 scholarship award funds a student who has an ambitious, community-minded summer project or internship planned that encourages the development of public policy which impacts the quality of family and community life. Applications will be accepted until March 29.
Since 2001, the scholarship has awarded $60,000 to 20 undergraduates who were interested in public policy and community service and chose to put those passions to work for the benefit of others.
The 2016 scholarship winner, Madison May, is a K-State senior in political science and international studies. Thanks to the Morse Scholarship, May worked with Ghana's National Commission for Civic Education to examine the connection between religious beliefs and political participation in Ghana, which became a democratic republic in 1960.
Other recipients have
Traveled to Nepal to support Tripur Kinder Academy, a private, English language school funded by a nonprofit called Open World Cause.
Created a bookmobile to bolster early childhood literacy in northeastern Kansas.
Taught nutrition and biology to Wilson, Kansas, youth by engaging them with a community garden.
To learn more about the award and review the application process, visit lib.k-state.edu/morse-scholarship.