November 28, 2016
Poet and K-State graduate Sea Sharp to read Nov. 29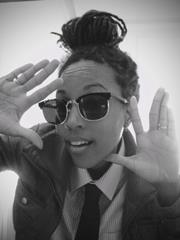 Poet and English graduate Sea Sharp will read a selection of poems at 8 p.m. Tuesday, Nov. 29, at Arrow Coffee, 1800 Claflin Road.
Sharp is an award-winning poet, receiving a Pushcart Prize in 2017 and a Prairie Seed Poetry Prize in 2015-2016, as well as being a Hammer and Tongue poetry slam finalist. Sharp's book, "The Swagger of Dorothy Gale & Other Filthy Ways to Strut," was published earlier this year. Sharp graduated from K-State with a Bachelor of Arts in English in 2010.
Elizabeth Dodd, university distinguished professor of English and creative writing, praises Sharp's poems for their vibrant voice and their perspective on familiar landscapes, cultural icons, and contemporary concerns of race and equality.
"Black-and-white, degrees of gray, and the power of shoes and the dancing, strutting, culture-journeying feet that can wear them or take them right off — Sea Sharp's buoyant poems kick at the margins and don't care if the roof comes drown. By turns insouciant, clairvoyant, and antsy, this collection sings, shouts, and shouts-out. Be sure to listen," Dodd said.
See Sharp's website for more information about Sharp's work.
Sharp's reading is sponsored by the English department and Arrow Coffee. The event is free and open to the public.