November 28, 2016
Herrera receives international research award in Cuba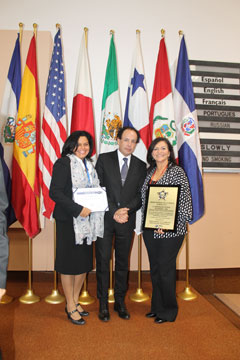 A College of Education professor was recently invited to present at a conference in Cuba where she was surprised with an international award for her research and textbook concerning the cultural dimension.
Socorro Herrera, professor and executive director of the Center for Intercultural and Multilingual Advocacy, received the World Science and Research Award from the World Council of Academics and University Researchers for her book "Biography-Driven Culturally Responsive Teaching." She was presented with the award earlier this month at the organization's conference in La Habana, Cuba. Twenty-three countries worldwide were represented.
"I was honored to receive this research award because it represents the work that I've done my entire professional life, which is grounded in understanding the learner," Herrera said. "It was truly humbling because in Cuba, and many of these other countries, emphasis is on the learner and they open the door to the learner through caring about them, learning about their families then they address the curriculum."
At the conference, Herrera presented "Preparing Classroom Teacher for a Transnational, Transcultural World: New Realities in the Post-Millennial Era."
Under Herrera's leadership, the center has secured more than $38 million in external funding. She has authored/co-authored nine textbooks, 11 book chapters and 16 articles published in refereed publications.