November 28, 2016
K-State employees participate in College and University Professional Association for Human Resources conference
Submitted by Learning and Development, Human Capital Services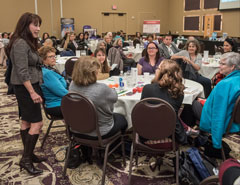 The Kansas chapter of the College and University Professional Association for Human Resources, or CUPA-HR, hosted its annual conference Nov. 9-10 at Kansas State University.
More than 60 human resources professionals and several sponsors and vendors from around the U.S. participated in the conference.
Several K-State employees were involved in the planning, preparation and delivery of the conference including Shanna Legleiter, Human Capital Services, Kansas chapter president-elect and conference planning chair; Alma Deutsch, Human Capital Services; Samantha Roberts, Human Capital Services; Connie Pfaff-Eickhoff, Human Capital Services; and Regina Nixon, communications and agricultural education.
Breakout session presenters from Human Capital Services included Deutsch, Roberta Maldonado-Franzen, Kellie Wilson, Amanda McDiffett, Stacy Divine, Cheryl Grice, Rebecca Laessig and Kathy Kugle. Also contributing their expertise during the conference break-out sessions were Shalin Hai-Jew from the Information Technology Assistance Center, and Doris Carroll, Lydia Yang and Be Stoney all from the College of Education.
The event highlighted the theme of "reConnect," which enhances the chapter's mission of promoting excellence through collaboration among human resource professionals at institutions of higher education in the state of Kansas.
The conference included two keynotes, legislative update, a workshop on creating inclusive communities, a variety of breakout sessions and an evening social.
K-State will host next year's conference and anyone who is interested is encouraged to save the dates of Nov. 8-9, 2017, and watch the Kansas chapter website for more information.