November 17, 2016
K-State represented at national sexuality and gender identity conference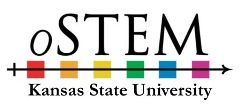 The K-State chapter of the national LGBTQ organization of Out in Science, Technology, Engineering, and Mathematics, or oSTEM, attended and participated in the sixth annual oSTEM National Conference Nov. 11-13 at the Hyatt Regency Tech Center in Denver, Colorado. Sponsors of the event included the Central Intelligence Agency, Raytheon, Genentech, Boeing and General Electric.
Twelve graduate and undergraduate students attended the conference and were sponsored by the LGBT Resource Center.
Samantha Sharpe, graduate student in the Division of Biology, received first place in the oSTEM poster session for graduate students. The K-State student contingent was one of the largest groups attending the conference and included students from biology, mathematics, anthropology, chemistry and engineering among other STEM programs at K-State.
Brandon Haddock attended the conference as the representative for the LGBT Resource Center in the Office of Student Life. Haddock was an invited speaker on two panel discussions; "Alternative Careers in STEM Fields" and "Queer People of Color in STEM Education and Careers."
The K-State Graduate School also was a sponsor of the conference and was represented by Michael Herman, associate dean. The Graduate School participated in the Career and Graduate School Bootcamp session and the Career and Graduate School Expo. Herman highlighted K-State STEM graduate programs and summer undergraduate research opportunities to interested attendees.
Samuel Brinton '11 serves on the oSTEM National Board as vice president for advocacy and member at large and the Committee on Trans/Non-Binary Diversity. Brinton presented three different sessions related to his identity and experiences in the STEM fields.