November 3, 2016
Innovation Lab joins African Union technical networks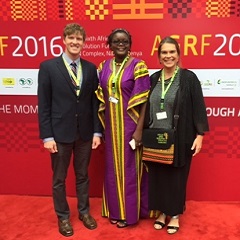 The Feed the Future Sustainable Intensification Innovation Lab, or SIIL, through the invitation from the African Union Commission, has joined the Research and Extension Technical Network and the Knowledge Management, Policy Analysis and Accountability for Results Technical Network which will steer the African Union-led Comprehensive African Agriculture and Development Programme, or CAADP.
Vara Prasad, director of the lab; Jan Middendorf, associate director; and Zach Stewart, research associate, will serve as the key advisers between the lab and these technical networks.
CAADP was reaffirmed in 2014 by African Union Heads of State and Government through the Malabo Declaration, which laid out an ambitious set of goals to achieve accelerated agricultural growth and transformation for shared prosperity and improved livelihoods in Africa. In order to guide these goals, seven thematic technical networks consisting of leading organizations working across Africa have been organized.
The Research and Extension Technical Network was established to provide training and technical advice in agricultural research and extension to government entities on policies, priority interventions and good practices that can accelerate achievement of national, regional and continent agriculture production, productivity and food security goals related to Malabo and CAADP.
The Knowledge Management, Policy Analysis and Accountability for Results Technical Network is designed to channel best practices in relevant agricultural development areas as it relates to measuring, monitoring and evaluating progress. This network will share strategic planning processes, agriculture statistics and data management resources, and support knowledge generation and dissemination. The intent of this technical network is to build countrywide capacity to strengthen policy analysis and develop mutual accountability and knowledge management systems.
One of the fundamental pillars of the U.S. government's Feed the Future program is to align Innovation Lab research agendas with country-led priorities. The linkage between CAADP and SIIL is a critical partnership to ensure the alignment of the lab's current and future efforts with the objectives of the African Union and African organizations pursuing similar activities. Alignment of SIIL activities with country-led priorities is critical to the sustainability and long-term transfer of new Feed the Future Innovation Lab innovations to farmers and end users. Without focus on country-led priorities and partnership with established African institutions, the successful delivery of new innovations after a project ends is often limited.