October 25, 2016
Lecture series on 'Spare Parts' begins Tuesday, Nov. 1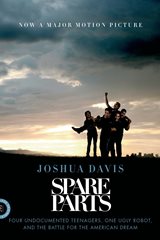 On Tuesday, Nov. 1, the K-State Book Network launches its faculty and staff lecture series for the 2016 common book, "Spare Parts."
"Spare Parts: A Public Lecture Series" draws upon the collective knowledge of the campus community, alongside others beyond K-State, to help everyone understand more about the issues raised in Joshua Davis' book. All events are free and open to the public.
"Our campus experts will help our community consider connections between the experiences of 'Spare Parts' and our own cultural landscape," said Karin Westman, PR/Event Committee chair and department head of English. "We're glad that we can provide a venue for conversations about key themes in Davis' book."
The lecture series will include the following two presentations:
• "Coming Out of the Shadows: A Panel Discussion" with faculty/staff expert Madai Rivera, academic services and diversity coordinator in the College of Human Ecology, will be at 7 p.m. Tuesday, Nov. 1, in 163 Justin Hall.
A panel of students will share their experiences and thoughts about being an undocumented student at K-State.
"While many undocumented students prefer to remain silent regarding their immigration status in this country because of the stigma and fear, many openly and candidly fight the struggles of their daily lives," said Rivera, who will moderate the panel discussion.
"K-State has become the lead institution in our state that is friendly to undocumented students," she said, "and this year's common book, 'Spare Parts,' introduced the story of a group of undocumented students from Arizona. Our panel of current undocumented K-State students brings it home and makes it even more real to us as a campus community. Our students are eager to share their journey, their success stories, and the ways in which our campus can be supportive to their individual needs."
The panel is sponsored by KSBN in partnership with the League of United Latin American Citizens and the American ethnic studies department.
• "A Conversation with Fredi Lajvardi" with faculty/staff expert Debbie Mercer, dean of the College of Education, will be at 4 p.m. Friday, Nov. 4, in the Leadership Studies Building's Town Hall.
Lajvardi, the high school teacher featured in "Spare Parts," visits campus to share his perspective on Davis' book and on the challenges and opportunities for students at his high school and others across the country.
"Fredi Lajvardi is obviously a teacher that did not sit students in rows, lecture and test," said Mercer, who will introduce Lajvardi. "He looked beyond stereotypes and challenged the students to dream beyond themselves, to problem solve, to think creatively, and to accept responsibility for their own learning. He is an inspiration and a model for College of Education students preparing to lead in their own classrooms."
Lajvardi's lecture is sponsored by KSBN in partnership with K-State First, the College of Education, K-State Libraries, the University Honors Program, Student Governing Association and the English department.
Visit the K-State Book Network for more information about Davis' book and the KSBN program.