September 12, 2016
K-State Launch competition offers awards for student entrepreneurial ideas
Submitted by Brent Fritzemeier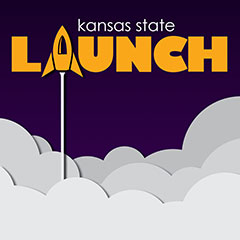 K-State's Center for the Advancement of Entrepreneurship invites all K-State students with a great business idea to compete in the 2016 K-State Launch competition.
To compete, students must create a feasible written plan, deliver a business pitch and present to a panel of judges that consists of local entrepreneurs, bankers and investment experts. Last year the competition rewarded 38 students and 16 different business ideas with more than $20,000 in prize money.
The competition is open to all undergraduate and graduate students currently enrolled at K-State. Students may compete as individuals or in teams of no more than four students.
"This competition is a great way to allow students to think creatively and explore their entrepreneurial spirits," said Chad Jackson, director of the Center for the Advancement of Entrepreneurship. "The real-world experience of pitching a business in front of the type of business experts we have on our panel is invaluable."
To register for the competition, visit k-state.edu/launch. Orientation sessions will be from 4-5 p.m. Sept. 27-28 in the Business Building Entrepreneurship Center, with the written plans due at 8 a.m. Oct. 12.
Finalists will be announced on Oct. 26, and will pitch their ideas to the judges panel on Nov. 9 in conjunction with the Business Building Chamber's after hours event.