September 1, 2016
Vendors needed for K-State Farmers Market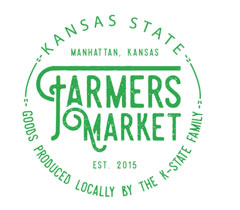 The Wildcat Wellness Coalition and Union Program Council are looking for students, faculty and staff — individuals or organizations — to be vendors at the upcoming K-State Farmers Markets.
Fall 2016 markets will be from 11 a.m. to 1 p.m. Wednesday, Sept. 28, and Wednesday, Oct. 26, at Bosco Student Plaza.
If you are interested in being a vendor at either or both of the fall 2016 farmers markets, or would like additional information, please contact Megan Katt at megan34@k-state.edu or 785-532-5226.