September 1, 2016
Support K-State's military-connected students at inaugural resource fair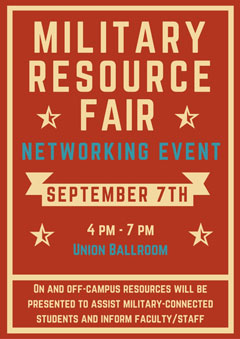 About two dozen organizations are joining forces to create a networking event to better support military-connected students on campus. Faculty are especially encouraged to attend to familiarize themselves with the scope of resources available in the community and at K-State.
The inaugural Military-Connected Resource Fair, sponsored by the K-State College of Education's Military Initiative Committee and the Veteran Student Organization, will be from 4-7 p.m. Wednesday, Sept. 7, in the K-State Student Union's Ballroom, and the public is invited to attend. Military-connected students are defined as military veterans and those on active duty as well as those serving in the National Guard, Reserves, and ROTC. The definition also includes family members.
Jane Fishback, associate professor of educational leadership and co-chair of the Military Initiatives Committee, said military-connected students often have career demands to balance and are experiencing a different culture. These situations can be challenging, but there are resources that offer support.
"Kansas State University cares about its military-connected students and their educational experience," Fishback said. "Military-connected students are strongly urged to attend this resource fair because representatives from numerous agencies will be available to provide very valuable information. Faculty are encouraged to attend so they become more aware of resources and assistance available to their military-connected students."
Debbie Mercer, dean of the College of Education, said she is proud to sponsor the event.
"K-State has deep roots with the military," Mercer said. "Not only has the university been designated as a military-inclusive campus but our college has a significant number of military-connected students, so any time there is an opportunity to serve those who serve us, the college will be the first in line."
Jana R. Fallin, professor and director of the Teaching and Learning Center, said the resource fair is an efficient way for K-Staters to discover the scope of services offered by both campus- and community-based organizations.
"Our military-connected students are an incredible addition to the K-State student body, and they are also extremely varied as a group," Fallin said. "We want to help our military-connected students succeed, and one important key is having the faculty, as well as the students themselves, be aware of the variety of resources available in Manhattan."
Participating organizations include:
From Fort Riley: Army Community Services/Solider Family Assistance Center, Fort Riley Spouses Club and USO — Rally Point 6.
From K-State: Academic Assistance Center/Tutoring Center, Career Center, Center for Advocacy, Response and Education, Counseling Services, Financial Assistance/Veterans Office, Global Campus, Institute for Health and Security of Military Families, Lafene Student Health Center, LGBT Resource Center, Non-Traditional and Veteran Student Services, Office of Student Life, Transfer Student Ambassadors, Undergraduate Research Ambassadors, Student Parent Organization and Veteran Student Organization.
From Manhattan: Manhattan Area Chamber of Commerce, Manhattan Vet Center, Manhattan Workforce/Kansas Works and New Pathways Neurofeedback.
Statewide: National Guard, extension military family specialists and National Guard family assistance specialists.