August 30, 2016
K-State chapter of Sigma Alpha Epsilon wins national awards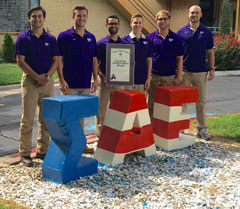 K-State's chapter of Sigma Alpha Epsilon was recognized with three national awards at the annual John O. Moseley Leadership Cruise to the Bahamas Aug. 1-5.
K-State's chapter received the Chapter Achievement Award, the second highest attainable award.
Two members of the chapter received individual awards. Daniel Vasquez, chapter president, won the Outstanding Eminent Archon Award, and Ryan Stricklan, treasurer, won the Outstanding Eminent Treasurer Award.
K-State's chapter has moved into the upper echelon of award-winning chapters across the nation. This is significant as Sigma Alpha Epsilon has 235 chapters and more than 13,000 undergraduates.