September 7, 2016
Join the K-State Book Club
Submitted by Sarah McGreer Hoyt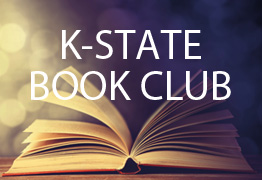 Calling all readers! Whether you keep your library on your iPhone or are addicted to the smell of old books, the K-State Book Club is for you.
Unlike a traditional book club in which members all read the same book and convene for discussion, we simply get together twice a month to talk all things bookish. Occasionally we pick a broad theme for the evening; other times the chatter is more free-style. It doesn't matter if your favorites are graphic novels, Nadine Gordimer or John Grisham: you'll find plenty to discuss with your fellow bibliophiles.
Initial fall meetings are on the following Fridays at 3 p.m. in Hale Library:
Sept. 9: Initial interest meeting, 301 Hale Library.
Sept. 30: Banned Books Week theme, 401 Hale Library.
Oct. 14: "Spare Parts" theme, 301 Hale Library.
Oct. 28: Halloween theme, location TBD.
Questions? Contact Charissa Powell at powellc@k-state.edu or visit our Facebook page, The K-State Literati Book Club, and request to be added.