March 27, 2012
Free tickets available to see ensemble led by Oscar-winning composer Yuval Ron
Submitted by Communications and Marketing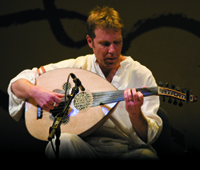 Free tickets are available to see the Yuval Ron Ensemble perform at 7:30 p.m. Thursday, April 5, in K-State's McCain Auditorium. Tickets can be reserved by calling 785-532-6428 or in person at the McCain box office.
The ensemble is led by Oscar-winning composer Yuval Ron and was featured in PBS' "Holiday Celebration" in 2005 and 2006. The group unites music and dance from the Middle East in a musical celebration.
The performance is a key part of Creativity Illuminated, a celebration exploring culture through workshops, movie screenings and a free performance by the Yuval Ron Ensemble.