April 27, 2016
State Farm Insurance supports Powercat Financial Counseling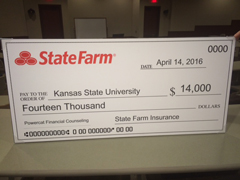 State Farm Insurance, through the KSU Foundation, recently awarded a $14,000 State Farm Good Neighbor Citizenship Grant to K-State's Powercat Financial Counseling.
The grant is awarded to organizations that foster service-learning opportunities and personal financial education such as Powercat Financial Counseling. Since 2009, the program has provided students with free financial counseling and education via a peer model where students from finance-related majors are trained to assist fellow students. State Farm has previously provided grants to Powercat Financial in each of the last six years totaling $79,000.
"The State Farm grants have been critical to sustain our robust financial education programs at K-State," said Jodi Kaus, director of Powercat Financial Counseling. "With the Union renovation project, we will gain dedicated space for Powercat Financial on the Union's third floor and the grant will assist us with technology needs for our new space and allow us to continue to assist students with their finances."
More information about Powercat Financial Counseling can be found at k-state.edu/pfc.