April 27, 2016
Plant breeding and climate change to be featured in Elmer G. Heyne Crop Science Lecture May 4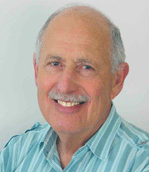 Renowned international plant breeder Abraham Blum will present the 32nd annual Elmer G. Henye Crop Science Lectureship at 4 p.m. May 4 in 1018 Throckmorton Plant Sciences Center. The title of the lecture is "Can Plant Breeding Cope with Climate Change?" A reception take place at 3:30 p.m. on the first floor Throckmorton lobby prior to the lecture.
Blum is professor emeritus, The Volcani Center, Agriculture Research Organization, at Bet Dagan, Israel. After retiring from the Volcani Center, he served for five years as a consultant to the Rockefeller Foundation project on the development of drought-resistant rice in Southeast Asia and led two CIMMYT/GCP projects on drought resistance phenotyping. He is now the founder and curator of Plantstress.com.
Born in Israel, he received his doctorate in plant breeding from the Hebrew University of Jerusalem. He researched plant abiotic stress during sabbatical leaves at the University of Nebraska, Texas A&M University, Kansas State University, University of Georgia and Texas Tech University.
At the Volcani Center he led the wheat and sorghum breeding and management programs for improved production under conditions of drought and heat stress, releasing drought resistant varieties and hybrids grown under dryland conditions in Israel. The main theme of his research was to bridge the gap between basic plant science and its application to dryland agriculture by way of crop genetics, physiology and breeding.
In his work, he collaborated very closely with scientists in different countries, including China, Ethiopia, Germany, Italy, Kenya, Mexico, Thailand, Spain and the U.S. His contributions are documented in more than 110 peer-reviewed scientific publications, more than 70 invited papers and presentations at international conferences, and two books, one titled "Plant Breeding for Stress Environments," and the other titled "Plant Breeding for Water Limited Environments." He was elected by his peers as chairman of the Interdrought-II, Rome, 2005, and Interdrought-III, Shanghai, 2009, International Conferences.