April 13, 2016
Free workshop: Scanning and enhancing photos for preservation and reuse
Submitted by Sarah McGreer Hoyt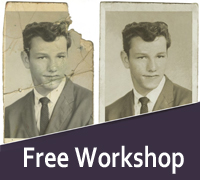 Does your research require original primary materials? Do you use historic photographs? How can you make them look their best in your article book or digital humanities project when they're not in optimum condition?
Join Chapman Center faculty and artist Tom Parish and digital initiatives librarian Allison Ringness for professional advice on scanning, restoring and retouching archival materials and distressed photographs.
This hands-on workshop will be from 1-4 p.m. Friday, April 22, in 217 Willard Hall.
Attendees will gain a foundational understanding of archiving digitized historic images. Instructors also will cover best practices in scanning and handling historical photographs. The final two hours will include Adobe Photoshop instruction with ample time for hands-on experience.
Attendees are encouraged to bring their own photographs to learn how to optimally scan images, restore original coloration — when possible — and repair small blemishes and irregularities.
Instructors will provide additional objects so attendees can practice a wide range of techniques.
Space is limited, so make your reservation soon. Reserve your spot by contacting Allie Lousch at the Chapman Center for Rural Studies at 785-532-0380 or alliel@k-state.edu.
This workshop is presented by the Chapman Center for Rural Studies in conjunction with K-State Libraries.