April 7, 2016
K-State's social work program celebrates 42 years of accreditation, retirement of Jacque Gibbons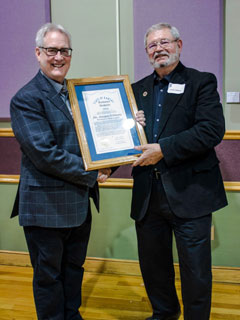 The K-State social work program celebrated 42 years of continuous accreditation by the Council on Social Work Education, or CSWE.
Faculty, friends and alumni from across the nation gathered in the K-State Student Union's Ballroom on April 2 to celebrate the social work program at K-State and honor Jacque Gibbons, associate professor, who will retire in May. Gibbons was honored for 34 years of teaching at K-State and providing many years of social work services to the citizens of Kansas.
Speakers at the event included Wes Ray, '94, Office of Management and Budget Director, Madison, Wisconsin; Robin Cole, '83, executive director of Pawnee Mental Health, Manhattan; Martin Tidd, '10, Physical Evaluation Board liaison officer, Fort Riley; Cia Verschelden, '76, executive director of Institutional Assessment, University of Central Oklahoma; and Lorenza Lockett, '99, assistant professor of social work at Kansas State University. Kansas Sen. Tom Hawk presented a State of Kansas Senate Tribute to Gibbons for his extensive efforts on behalf of all Kansas citizens via social work education and his delivery of direct services to clients.
Gibbons started working as a social worker in Kansas in 1969 and continues to serve Kansas through his volunteer service with the American Red Cross. He is noted among colleagues and students for his macro practice teaching, which includes helping social work students develop community organization skills so that they can make an impact in communities and governments in order to meet social needs and serve the most vulnerable members of our communities.
The social work program at K-State has been continuously accredited by CSWE since 1974 and currently is working on its self-study, which occurs in eight year cycles. The program is in the sociology, anthropology and social work department and is located on both the Manhattan and Polytechnic campuses.
Student enrollment has grown steadily since 1974, especially in the last 10 years. In 2006, there were 100 social work majors, and approximately 250 in fall 2015. The percent of minority student majors rose from the mid-teens to 30 percent in fall 2015.
According to the Bureau of Labor Statistics, future demand for jobs in the social work profession are estimated to increase 19 percent — above average of all jobs — by 2020.
For more information about the social work program at K-State contact Janice Dinkel at dinkel@k-state.edu.