February 19, 2016
Finance professor Chairat Chuwonganant named Capitol Federal distinguished chair in finance
Submitted by Brent Fritzemeier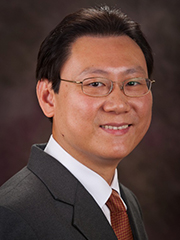 The Kansas State University College of Business Administration has named Chairat Chuwonganant as its new Capitol Federal distinguished chair in finance.
Chuwonganant has been a part of the college's faculty for the past nine years, starting as an associate professor of finance in 2007, before being promoted to professor of finance in 2013.
"We are pleased Dr. Chairat Chuwonganant will be the new Capitol Federal distinguished chair in finance at Kansas State University," said Tammy Dishman, president of the Capitol Federal Foundation. "Dr. Chuwonganant has a strong dedication to a quality research program and has been published in many leading finance journals. His education philosophy combines teaching, research and work experiences to create a learning environment that is beneficial to his students. We look forward to his continued commitment to his students and his dedication within the college."
Chuwonganant has been the recipient of multiple awards and honors in his time at K-State, including the College of Business Administration Faculty Research Grant in 2011, Ralph Reitz Outstanding Undergraduate Teaching Award Nominee in 2011, and the college's Outstanding Contribution in Research Award in 2008. He also has served on several committees at both the college and university level, providing invaluable service to the university.