February 19, 2016
Beocat training offered next week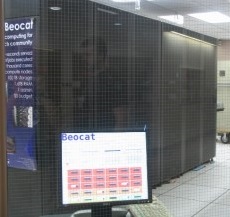 Beocat training sessions will be from 3:30-5:30 p.m. Monday, Feb. 22, and Wednesday, Feb. 24, in 93 Durland Hall. We'll be touring the new datacenter and showing off our equipment as well.
Monday's session will cover:
Beocat User's Group meeting, first 30 minutes. C

ome discuss any topics, problems or questions — we're here to listen and help.

Introduction to Linux, 30 minutes

OS overview

Using SSH

Creating and navigating directories

File transfer using FileZilla, MobaXTerm, scp

Ownership and Permissions

Introduction to Beocat, 30 minutes

What is a supercomputer

Tour of Beocat

Support resources

Wiki support

Installed software

How to ask a good support question

Submitting jobs on Beocat, 30 minutes

Resource requests

Defaults and why you probably don't want them

Advanced features

Killable jobs

MPI

Array jobs
Wednesday's session will cover:
Overview of high-performance computing hardware

Parallel computing with OpenMP and MPI

Installing scientific software on Beocat

Using Beocat efficiently — using tmp and scratch, compilers and libs
Use of Beocat is free for professors and students in the state of Kansas. In addition to many users across the K-State campus, Beocat also is a resource for users from Washburn University, Bethany College, Pittsburg State University, the University of Kansas and other institutions. Beocat is supported by the National Science Foundation, National Institutes of Health, Department of Energy and university grants.
For more information, contact Daniel Andresen, director of the institute for computational research in engineering and science at dan@k-state.edu or 785-532-7914.