February 19, 2016
Kansas Forest Service welcomes new watershed forester
Submitted by Jennifer G. Williams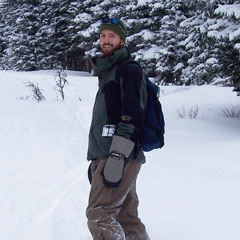 Andy Klein has joined the Kansas Forest Service as the water quality forester. He provides professional forestry education and technical assistance to private landowners and cooperating natural resource agencies in Kansas, with geographic emphasis on those watersheds — mostly eastern and central Kansas — deemed high priority by the Watershed Restoration and Protection Strategy State Committee.
Klein was born and raised on a small farm in central Minnesota, where he roamed the woodlands, wetlands and grasslands developing his love for the great outdoors. Klein graduated with a bachelor's degree from the University of Wisconsin, River Falls in 2005. Before taking on his current role with Kansas Forest Service, he worked as a wildland firefighter with the Alpine Interagency Hotshot Crew based out of Rocky Mountain National Park, as a fire protection specialist for Kansas Forest Service, and as a soil conservation technician for the U.S. Department of Agriculture's Natural Resources Conservation Service, and the Conservation Districts in Pottawatomie, Wabaunsee, Riley and Geary counties.
Outside of work, Klein spends as much time as he can with his two young children and wife, fishing, cycling, hunting, paddling and gardening.
Established in 1887, the Kansas Forest Service is the nation's fifth oldest state forestry agency. It serves rural landowners, communities, rural fire districts, forest and arboriculture industries, and citizens of the state. This is accomplished through its conservation tree and shrub planting, fire management, community forestry, rural forestry, marketing and utilization and forest health programs.
The agency is administratively attached to the horticulture, forestry and recreation resources department in the College of Agriculture.