February 4, 2016
K-State Global Campus hosts university lecture and 50th anniversary event Feb. 8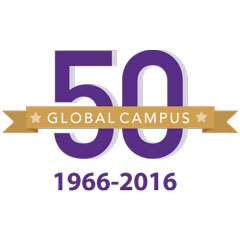 Kansas State University Global Campus is celebrating its 50th anniversary in 2016. Please join us as we kick off our anniversary with a university lecture about the future of higher education.
The lecture, "Higher Education and the Future: Meta-Themes and Innovation," takes place from 3:15-5 p.m. Monday, Feb. 8, at the K-State Alumni Center. It also will be live-streamed through the 50th anniversary website.
Louis Soares, vice president for the Center for Policy Research and Strategy in the American Council on Education, will explore meta-themes that are emerging about learning and ways to think about innovation so that campus administrators, faculty and staff can find their own methods to adapt to the future in ways that promote better outcomes for their students. His specialization areas are in technology and higher education, post-traditional learners, career and education counseling, community college reform, student consumer information and workforce training.
Thank you for supporting K-State Global Campus as we celebrate our first 50 years. Connect to the live-stream lecture or see how you can continue your support throughout the celebration.