February 4, 2016
Manhattan Campus, K-State Student Union rank high on two national lists
Submitted by Communications and Marketing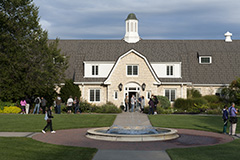 Beautiful campus, phenomenal student union.
K-Staters have some new points of purple pride about their university, all thanks to two new national lists.
According to Great Value Colleges, K-State rates among the most beautiful campuses in the nation. The website ranks the university at No. 24 for its more than 2,300 acres for agricultural teaching and research activities, Konza Prairie Biological Station, Colbert Hills Golf Course and the Kansas State University Gardens, which the website calls "an absolutely stunning horticultural display garden." It also mentions the architecture of buildings like Hale Library and the David Hicks Overmyer murals in the library's Great Room. K-State is the only Big 12 school to make the list, which also includes Harvard and Amherst.
Rating even higher nationally is the K-State Student Union, which is No. 22 on EdSmart's list of the 51 most phenomenal student unions. The list was based on architecture and exterior appeal, as well as interior appeal, student services, amenities and more. Among the services mentioned by the website are the bookstore, convenience store, passport center, ATMs, two theatres and the rec center. The Union is currently in the midst of a $25 million renovation that will bring enhanced dining services, up-to-date retail areas, an innovative tech lounge and much more. K-State is the only school from Kansas on the list.