January 29, 2016
Professor of art and associate dean of Graduate School selected for one-month artist residency in Morocco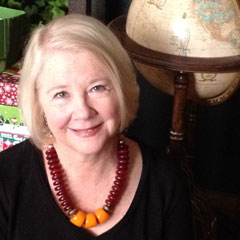 Geraldine Craig, professor of art and associate dean of the Graduate School, is one of the 10 international artists selected for a special monthlong artist residency in February at the Green Olive Arts in Tetouan, Morocco, a UNESCO World Heritage Site.
Selected by a peer review process, artists from Australia, Canada, Denmark, Pakistan, Spain, Saudi Arabia and the United States were chosen through previous work examples and a proposal identifying how the artist would use their time at the Convergence 2016 residency.
"This is a wonderful opportunity to meet and interact with Islamic artists in an extended, meaningful cultural exchange," Craig said. "It looks like an extraordinary environment, and I feel very grateful for the opportunity."
The artist residency culminates in a trip to the Marrakesh Biennial 16 exhibition to meet with biennial artists and curators.
The following is an excerpt from Geraldine Craig's proposal:
"My project in Tetouan will be a series of works inspired by the challenges and abstractions to usual mapping representations that the walled ancient medina, architecture and streets represent. I also see it as a chance to draw with material on paper and fabric — literally and figuratively — from the synthesis of Moroccan and Andalusian cultures and its urban fabric, layering Islamic script and pattern with English, Spanish and French texts and imagery of Tetouan. The techniques and materials will be mixed media — printing, rubbings, hand stitching, embossing, photography, pigments from local clay and spices from the markets — to create abstract visual portraits of place or conceptual maps that I hope have the visual sensuousness for which Morocco is famous. I cannot predict exactly, but my guess is the imagery would be derived largely from the physical environment, the historic textiles, and the women who I see and hope to meet. The built ancestral heritage — walls, fortifications, zawayas, fountains, hammams, ovens, historic silos — are fascinating for their authenticity, but also for the daily life that happens in them. I'm interested in the convergence of heritage and modernity that becomes the complex, polyvalent contemporary."
See more of Craig's work and biography.