January 29, 2016
Visiting artist Garry R. Bibbs sculpture exhibition and lecture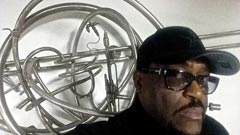 The Kansas State University art department will present the exhibition "Can We Talk?.............." by artist Garry R. Bibbs Feb. 1-12 in the Mark A. Chapman Gallery in Willard Hall. In addition, the artist will give the lecture "Making Sculpture For The Public" at 10:30 a.m. on Monday, Feb. 1, in 43 Willard Hall. A Gallery Talk and Reception will be at at 5 p.m. Feb. 1.
Admission is free and open to the public.
Garry R. Bibbs is an associate professor and area head at the University of Kentucky where he has taught for 26 years and currently serves as the Master of Fine Arts graduate advisor. He has expertise in sculpture and printmaking, earning his bachelor's degree with honors in arts studio from Kentucky State University and a Master of Fine Arts from the University of Kentucky. From 1986-1990, he was studio assistant to Chicago sculptor, Richard Hunt.
Bibbs has participated in numerous national and regional solo exhibitions and received a Ford Postdoctoral Fellowship from the National Academy of Sciences Washington, D.C., the Al Smith Award in Sculpture/Outstanding Kentucky Artist and the NEA Southern Arts Federation Award/Outstanding Printmaker Award.
In addition, he has completed over 35 public art commissions throughout the eastern regional states. Some of his public work is featured at the Frankfort Kentucky New Transportation Building; Kentucky Center for African American Heritage; University of Kentucky Allied Health Professions and Sciences; Kentucky Commission on Human Rights; Urban League of greater Chattanooga office Building; Busey Bank, Champaign, Illinois; and the National Afro-American Museum and Cultural Center.
This lecture is presented and funded by the Student Governing Association's Fine Arts privilege fee. This event is a part of the art department's Visiting Artists Series for 2015-2016.
The Mark A. Chapman Gallery, on the first floor of Willard Hall, opened in 2005. Cheryl Mellenthin and Mark Chapman funded a complete renovation of the former Willard Hall Gallery, increasing the exhibition space to more than 1,400 square feet along with 400 square feet dedicated to exhibition preparation and kitchen facilities. The art department hosts Bachelor of Fine Arts and Master of Fine Arts student exhibitions in the gallery as part of graduation requirements each semester. The technology friendly gallery serves not only exhibition purposes, but also provides a location for an active Visiting Artist lecture program.