January 29, 2016
'The Bard at the Bar: Midsummer Night's Dream Mock Trial'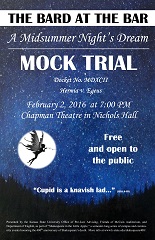 The Kansas State University Office of Pre-Law Advising presents "The Bard at the Bar: Midsummer Night's Dream Mock Trial." This event will take place at 7 p.m. Feb. 2, in the Mark A. Chapman Theatre in Nichols Hall. Based on the popular Shakespeare Trials that began in 1994 by U.S. Supreme Court Justice Anthony Kennedy and held annually in Washington, D.C., this trial draws parallels between classical works and contemporary law.
The evening will bring some of Shakespeare's most famous characters to life, as four attorneys argue their sides of the case before a panel of three judges. The trial will begin with a brief introduction of the Bench and the Bar. Jeremiah L. Platt, a Manhattan attorney will begin the trial arguing in favor of true love as counsel for Hermia, a girl defying both her father's will and Athenian law by choosing to love a man her father does not approve of, and Lysander, Hermia's star-crossed lover. Amy J. Bipes, a civilian attorney at Fort Riley, will then present her case in favor of parental rights and upholding the law as counsel for Egeus, Hermia's determined father, and Demetrius, the man Egeus has chosen to marry his daughter. Intervening in the trial are Oberon and Titania, the king and queen of the fairies. Jeffrey D. Jackson, a professor of law at Washburn University School of Law will represent Oberon, a champion of true love and intervenor on behalf of Hermia. Britain D. Stites, an attorney with the Riley County Public Defender's Office will represent Titania, intervenor on behalf of Egeus. The bench consists of three currently sitting judges who will hear the arguments and make a ruling on the case at the end of the trial. Before the judges give their opinions, the audience will be given a chance to vote on the case as well.
The evening will conclude with the judge's opinions and a reception in Nichols Hall. This event is free and open to the public. It is presented by the Office of Pre-Law Advising in conjunction with the Friends of McCain and the English department as part of the Folger Library's First Folio event and "Shakespeare in the Little Apple."