December 15, 2015
Room change for NRES Capstone research presentations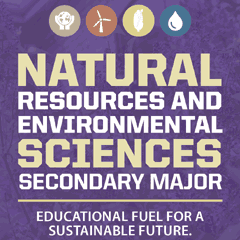 The research presentations for students enrolled in this semester's natural resources and environmental sciences, or NRES, secondary major capstone course from 9:40-11:30 a.m. today has changed locations to 231 Ackert Hall. The room change was necessary to avoid construction noise in the K-State Student Union.
Two projects will be discussed: "Ecosystem Service Delivery by Urban Prairie Patches" and "Assessing the Value of Stream Temperature Data for Kings Creek, Kansas." Student work has been supervised this semester
by faculty advisors Trisha Moore, biological and agricultural engineering, and John Harrington Jr., geography).
Natural resources and environmental sciences faculty and students are especially encouraged to attend.