February 20, 2012
America Saves Week, Feb. 19-26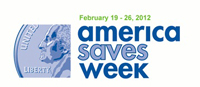 America Saves Week is an annual campaign to promote fiscal responsibility and encourage savings among all Americans. Each day this week the Division of Human Resources will focus on how K-State can help you save. K-State Research and Extension provides numerous tips and resources to get you started at KansasSaves.org. Some practical, everyday savings tips are:
Borrow books, CDs and videos at your local library. Free eBooks are available for checkout through Sunflower eLibrary.
Bring your lunch to work once or twice a week instead of eating out.
Use coupons when shopping for groceries and more.
Review your telephone, cable or satellite bills for services you don't use and cancel or change them.
Find more ways for every day savings and other savings tips at: http://www.choosetosave.org/tips/
Start small. Think big.