November 9, 2015
Film about local buffalo soldier premieres on Veterans Day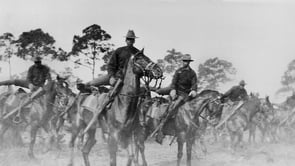 A film about one of the last surviving buffalo soldiers will premiere on campus on Veterans Day. A very special person will be in the audience — the subject of the film.
"I Was a Buffalo Soldier: The Story of Nolan Self" will premiere at 11 a.m. Wednesday in the Hale Library's Hemisphere Room. The public is invited to attend.
The film was commissioned by Self's son, Curtis, and produced by videographer Rusty Earl with the help of David L. Griffin Sr., assistant dean in the K-State College of Education.
Self, a 97-year-old former Buffalo Soldier in the 10th Cavalry, served five campaigns including World War II. He was stationed at Fort Leavenworth and Fort Riley and moved to Junction City after retiring from the military. Self retired from the city of Junction City after a 17-year career.
Word about the film has already attracted the attention of veteran's groups and showings may occur on military installations.
"It was an honor to capture Mr. Self's life and service to our country," Earl said. "It is especially meaningful that the film will air on campus on Veterans Day, and I hope the K-State family has 30 minutes to watch this film and pay tribute to this remarkable man."