February 14, 2012
Food scientist John Floros named dean of College of Agriculture and director of K-State Research and Extension
Submitted by Communications and Marketing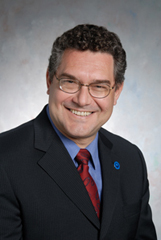 A renowned food scientist and academic leader with significant experience at top-ranked land-grant universities will be Kansas State University's new dean of the College of Agriculture and director of K-State Research and Extension.
John D. Floros will begin his new role Aug. 1. He comes to Kansas State University from Pennsylvania State University, where he is a professor and head of the department of food science. His past experience includes working as an international industry consultant for more than 25 years and serving as a professor at Purdue University.
"Kansas State University's College of Agriculture and K-State Research and Extension have a proud history and a bright future," Floros said. "Together, they make a dynamic, well-respected academic entity with an enviable reputation for supporting the state's agricultural industry and contributing to a safer, healthier and more sustainable food supply throughout the nation. I feel honored, delighted and proud to be the next dean and director, and ready to lead such a fine institution."
"As Kansas State University works to become a top 50 public research university, we must build on our strengths in animal health and food safety," said Kansas State University President Kirk Schulz. "John is highly respected as a researcher in the international community and brings a tremendous network of global connections to our university. He has developed strong academic programs at all levels."
Floros' achievements include increasing enrollment in undergraduate and graduate programs at Penn State and doubling the size of the doctoral program. He played an integral role in increasing outreach and distance education programs, while raising funds to build the largest food science building in the country.
"John Floros brings a distinguished career of research, teaching, service and administration to the position of dean of the College of Agriculture," said Kansas State University Provost April Mason. "His experience at top-ranked land-grant institutions provides an excellent foundation to support K-State's outreach mission through our extension service. Dr. Floros is no stranger to the Midwest having been at Purdue University for 12 years."
Floros earned a combined bachelor's/master's degree in food science and technology from the Agricultural University of Athens, Greece, and a doctorate in food science and technology from the University of Georgia. His research specialties include the application of chemical engineering science, applied mathematics and industrial statistics to the field of food process engineering and packaging. He has written more than 120 peer-reviewed articles, book chapters and other publications.
Floros' research has been funded by the U.S. Department of Agriculture and private industry. He has been a member of several professional organizations, including the American Society of Agricultural and Biological Engineers and the American Society for Quality Control. He served as president for the Institute of Food Technologists, the leading professional organization in the food science discipline.