October 22, 2015
Ed Heptig elected president of Central Region of the Association of Physical Plant Administrators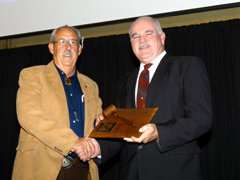 Ed Heptig, director of building maintenance at Kansas State University, was recently elected to serve as president of the Central Region of the Association of Physical Plant Administrators, or CAPPA, the association for facilities professionals in higher education. This association strives to provide leadership in the management of educational facilities.
The association is an international association dedicated to maintaining, protecting and promoting the quality of educational facilities, and serves and assists facilities officers and physical plant administrators in colleges, universities and other educational institutions throughout the United States, Canada, Mexico and other countries worldwide.
Its mission is to promote excellence in the administration, care, operations, planning and construction of educational facilities. The association serves the entire education community by conducting research and educational programs, producing publications, developing guidelines and serving as a central information source for its members.
Association members are expected to uphold the values of vision, transformation, stewardship, collaboration and leadership. Throughout the years, this association has served as a medium for members to collaborate, discuss, learn and create a better vision for elevating and transforming institutions into more inviting and supportive learning environments.
As the director of building maintenance at K-State, Heptig oversees the maintenance of about 120 buildings, encompassing 5.4 million square feet.