October 22, 2015
Tatonetti wins award for recent book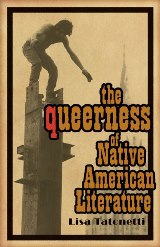 Lisa Tatonetti, professor of English and author of "The Queerness of Native American Literature," University of Minnesota Press, 2014, has received the 2015 Thomas J. Lyon Book Award from the Western Literature Association.
Named after a former editor of the organization's journal, Western American Literature, the award honors outstanding, single-author scholarly books on the literature and culture of the American West.
In its citation, the award committee praised Tatonetti's book as "a significant study not only for Western American literary study, but also within Native American literary and historical studies, LGBTQ studies, film studies and women's studies. Through her fine reading of canonical texts, and her recovery of others, Tatonetti both recovers texts and establishes a genealogy of queer native literary tradition."
Visit Tatonetti's department Web page for more information about her work.