September 15, 2015
Art DeGroat invited lecturer at international Interdependence Day Forum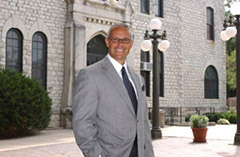 Retired Lt. Col. Art DeGroat, executive director of military and veterans affairs at Kansas State University, is giving an invited presentation about the post-9/11 era military veterans' social reintegration on Sept. 27 at the 2015 Interdependence Day Forum at the Lincoln Center for the Performing Arts in New York City.
The forum is the 13th annual gathering of distinguished international speakers, including leaders in culture, politics, education and faith — all who believe in the need for an interdependent world and their responsibility to achieve this vision.
In response to the theme of this year's forum, "Artists, culture and the transformative power of performances," DeGroat will lead a discussion to explore the effects of contemporary war on veterans and their families, as well as the positive contributions that creative arts play to increase understanding of veterans issues.
"I am honored to share my research and practical experience in serving this generation of veterans as they navigate the difficulties of reintegration at this important national forum," DeGroat said. "I have found the use of creative arts profoundly effective to inform and inspire people to better understand and assist veterans and their families transition back to civil life after war. This forum should help enhance this effort."
DeGroat will present his research in conjunction with Anne Hamburger, executive producer of En Garde Arts, who will show excerpts from "Basetrack Live," an award-winning theatrical production that fuses music, film, photojournalism and live performance to document and explore war as experienced by the 1st Battalion, 8th Marines in Afghanistan.
The Interdependence Movement, founded by Benjamin Barber, is a network of citizens without borders that includes artists, educators, students, politicians, entrepreneurs, civic and religious leaders and other activists who recognize the interdependent nature of the world and advocate for new forms of constructive civic interdependence. The group's mission is to "aspire to solve the multiple cross-border challenges in economies, ecology, technology, war, disease and crime that confront us by imaging, creating and practicing new, just, rewarding, human, social, economic, cultural and governance relations and stewardship of our common climate."
The annual Interdependence Day event has been hosted in Philadelphia, Rome, Paris, Casablanca, Mexico City, Brussels, Istanbul, Berlin, New York, Los Angeles, Dublin and Amsterdam, with thousands of people attending the events and working year-round to promote interdependence in their professional and private lives.