May 4, 2015
K-State summer event today in Bosco Student Plaza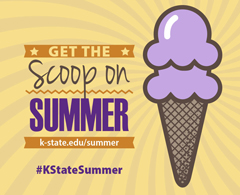 Your K-State summer is just around the corner!
Visit Bosco Student Plaza outside the K-State Student Union today between 11:30 a.m. and 1:30 p.m. to learn about summer opportunities and win some K-State giveaways. Willie the Wildcat will be stopping by to help us gear up for summer at K-State.
Make the most of your summer by mixing and matching classes with jobs, internships and other experiences.
Questions? Contact the summer school coordinator, Jo Maseberg-Tomlinson, at jam4545@k-state.edu or 785-532-2570, or visit the K-State summer website.