February 27, 2015
K-State joins new nontraditional student honor society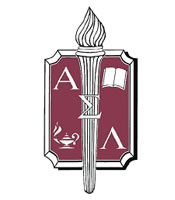 Kansas State University Global Campus has developed its own chapter of Alpha Sigma Lambda Honor Society, called Omega Xi, to recognize outstanding nontraditional students.
Alpha Sigma Lambda is a nonprofit organization devoted to the advancement of scholarship and the recognition of nontraditional students pursuing higher education.
The honor society and its member institutions recognize the special achievements of adult students who accomplish academic excellence while maintaining commitments to family and career.
"We are excited to bring students this new opportunity that expands resources for distance students while also celebrating their academic achievements," said Jason Maseberg-Tomlinson, director of student and faculty services at K-State Global Campus. "Alpha Sigma Lambda will bring students another opportunity to network and apply for scholarships. Many of our distance students are returning to college to finish their degree online. They are now working parents, professionals and nontraditional students who attend school to better their lives and improve opportunities for their children."
In partnership with its member colleges and universities, Alpha Sigma Lambda has made major contributions in the areas of student recruitment and retention of adult students. It is the only chapter-based honor society for nontraditional learners.
"I am exhilarated that K-State Global Campus and our office launched a new honor society for K-State nontraditional students who excel academically," said Katie Morris, nontraditional and veteran student services coordinator at K-State. "These students had to balance their families and careers while maintaining their academic excellence. This new honor society recognizes their hard work and dedication for academic achievements."
K-State Global Campus will invite student candidates to join its chapter, Omega Xi. To be eligible for membership, individuals must currently be enrolled as a nontraditional student with a minimum of 24 credit hours completed toward an undergraduate degree program at K-State, and have a cumulative GPA of 3.2 or higher.
New members will be recognized at the chapter's first induction ceremony at the K-State Global Campus Honors and Awards Reception on April 30.
Learn more on the Alpha Sigma Lambda website through K-State Global Campus.