February 27, 2015
Fit to Be Me Week: Dance Like Everyone is Watching tonight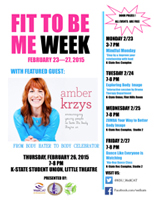 Come join the fun and celebrate Fit to Be Me Week Feb. 23-27, a week to focus on total fitness from the inside out. There will be prizes and giveaways.
Dance Like Everyone is Watching will be from 7-8 p.m. Friday, Feb. 27, at the Chester E. Peters Recreation Complex in Studio 2. Start your weekend off right and get down with some hip-hop moves guaranteed to make you feel awesome.

Fit to Be Me Week events are sponsored by Wildcat Wellness Coalition, K-State's Student Governing Association and WellCAT Ambassadors at Lafene Health Center.