February 23, 2015
Download free safety app to win iPad mini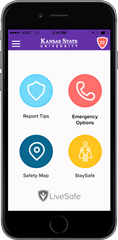 Download LiveSafe safety app and be entered into a drawing to win an iPad mini.
Kansas State University has a new safety app free to students, faculty, staff, visitors, parents and community members. LiveSafe enables smartphone users to anonymously send text, photo and video tips to campus police; have friends and family monitor their walks using GPS; find campus safety procedures and resources; and more.
From Feb. 23 to March 11, students who download the app will be entered into a drawing for a free iPad mini. The winner will be drawn on March 12.
The implementation of the app was a collaborative effort by the vice president for student life, the Office of Student Life, K-State Police Department, Division of Communications and Marketing, and the Student Governing Association.
LiveSafe can be downloaded on any iPhone and Android-based device through iTunes or Google Play.