February 23, 2015
Fit to Be Me Week: Mindful Eating Booth today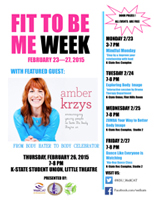 Come join the fun and celebrate Fit to Be Me Week, Feb. 23-27. It is a week to focus on total fitness from the inside out. Prizes and giveaways will be offered.
The Mindful Eating Booth will be set up from 3-7 p.m. today at the Chester E. Peters Recreation Complex.
Break free from diet confusion. Stop by our display and find out how mindful eating can help you achieve a saner and healthier path to better nutrition.