February 18, 2015
Poet Geffrey Davis to read from his work, speak on diversity and creativity this week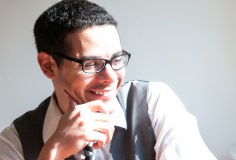 Poet Geffrey Davis will read from his poetry at 5 p.m. Thursday, Feb. 19, in Room 227 at the K-State Student Union. Davis also will present a lecture "On Diversity and Creativity" at 4 p.m. Friday, Feb. 20, in the Union's Big 12 Room.
Both events are free and open to the public. A book-signing will follow the reading.
Davis creates lyrical, confessional poems that reflect the intersection of his multiple identities — African- American, father, son, athlete, writer, teacher, scholar and student. Also an award-winning teacher, Davis creates opportunities for his students to find their voices and write their identities.
Davis grew up in Tacoma, Washington, and teaches in the Master of Fine Arts program at the University of Arkansas. His first book of poetry, "Revising the Storm," won the 2013 A. Poulin, Jr. Poetry Prize. Other honors include the Anne Halley Prize, the Dogwood Prize, the Wabash Prize, the Leonard Steinberg Memorial/Academy of American Poets Prize, nominations for the Pushcart Prize, and fellowships from the Cave Canem Foundation and Penn State's Institute for the Arts and Humanities. His poetry has appeared in prestigious venues and journals, including The Academy of American Poets, The Feminist Wire, Poem-of-the-Week, Crazyhorse, Green Mountains Review and Mississippi Review, among other places.
Davis actively promotes the writing of others by serving on the board of a literary journal and by returning to participate in Cave Canem's annual retreats to mentor young African American writers.
Davis's public lecture, "On Diversity and Creativity," will consider the ways they intersect and inform each other in the classroom and in the creation of new ideas. Given this broad approach, his talk will be of interest not only to faculty and students in the arts and humanities, but also those in the social sciences and sciences.
Davis's reading is sponsored by the English department and the College of Arts & Sciences' Diversity Committee.