February 18, 2015
Cuban percussionist visits K-State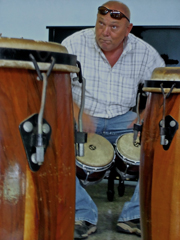 This week, a prominent Cuban musician will visit the K-State campus to offer master classes, lecture-demonstrations and ensemble coaching to K-State students.
José Eladio Amat Medina will coach the K-State Latin Jazz Ensemble in an open rehearsal at 6:30 p.m. Wednesday, Feb. 18, in 201 McCain Auditorium. He will give a lecture-demonstration on Cuban music at 11:30 a.m. Thursday, Feb. 19, also in 201 McCain.
As a musician, Amat Medina has made many tours around the world and played with many important musicians from Europe, Africa and North America. He has participated in music festivals with Sin Palabras, and has worked with renowned percussionists, including Luis Conte, Giovanni Hidalgo, Armando Peraza and Mamady Keita. He has performed on recordings including "Lo Mejor de la Música Cubana," "Son x 3," "KM 0," "House of Dreams Oricha," and "Cantándole al Sol" and his own "Playing Congas" DVD.
Amat Medina was born March 7, 1958, in Havana, Cuba, where he began to study music at age 10. In 1978, he completed his studies at the professional level and began to study and work at the Instituto Superior de Arte in Havana. There, he finished his studies in 1983 and received the equivalent of a Master of Music degree in percussion performance. He has been a percussion teacher and performing percussionist for more than 30 years.
As a visiting clinician, Amat Medina has taught in many universities and schools, including Berklee College of Music in Boston, Massachusetts, and the University of Graz in Austria. In Cuba, he has taught all the musical genres including classical, popular and folkloric. He specializes in popular and folkloric music because of his research into these areas throughout his career. Presently, Amat Medina teaches at the Escuela Nacional de Arte, which is the national music school in Havana. He is a member of the faculty of percussion professors who offer workshops for foreign students and continues to perform as a professional musician.