February 18, 2015
La Societe Francaise hosts film festival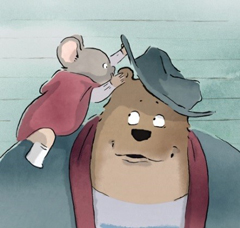 The Tournées French Film Festival, sponsored in collaboration with La Société Française, the modern languages department, the Beach Museum of Art and the K-State Student Union, will be from Feb. 20 to March 2.
All films will have English subtitles and will be a great way to experience a different culture without having to leave K-State's campus. All of the films are free and open to the public.
There will be a selection of French cheeses for guests to enjoy immediately following our first film "Ernest and Celestine."
Film dates, times and locations:
• "Ernest and Celestine" will be from 5-7 p.m. Friday, Feb. 20, in the K-State Student Union's Little Theater. This utterly charming animated film about an interspecies friendship, directed by Stéphane Aubier, Vincent Pater, and Benjamin Renner, is based on a series of children's books by the Belgian author-illustrator Gabrielle Vincent, 1929–2000. In an unnamed French city, two different realms of sworn enemies exist: Above ground live bears; below it live mice. Celestine, a wee mouse orphan who is being trained for a career in dentistry but dreams of being an artist instead, meets a kindred spirit in adult Ernest, an ursine musician whom she convinces not to eat her. These unlikely friends set up their own home in the woods, delighting in both their similarities and differences.
• "The Cave of Forgotten Dreams" will be from 6-8 p.m. Saturday, Feb. 21, at the Beach Museum of Art. Werner Herzog's breathtaking documentary gives viewers an unprecedented look at, as he accurately describes it, "one of the great discoveries in the history of human culture": the prehistoric drawings in the Chauvet-Pont-d'Arc Cave in the south of France. First discovered in 1994, the images — including depictions of lions and mammoths — were made 30,000 years ago and are the earliest known human art. Herzog and his tiny crew were granted special permission to enter the cave, which remains off-limits to the public, by the French minister of culture; the director's interviews with Gallic historians, scientists and other experts help provide context for this extraordinary site. Yet no one is a better guide for this fascinating expedition than Herzog himself, astutely noting that the cave drawings form a "proto-cinema."
• "The French Minister" will be from 7-9 p.m. Sunday, Feb. 22, in the Union's Little Theater. Directed by Bertrand Tavernier, this razor-sharp satire of politics — both those enacted on the world stage and within the corridors of workplaces — originated in firsthand experience. The film is adapted from graphic novels written by Antonin Baudry, who worked as a speechwriter for Dominique de Villepin, the French foreign minister during the lead-up to the 2003 war in Iraq. As the main character scrambles to figure out just what exactly his highly capricious boss wants from him, the crisis in "Lousdemistan" — clearly a stand-in for Iraq — deepens. The new hire must also contend with the petty office squabbling of his territorial colleagues and their bids for power.
• "Mauvais Sang," or "Bad Blood," will be from 6-8 p.m. Friday, Feb. 27, in 015 Eisenhower Hall. Leos Carax's second film, from 1986, is a salute, at once moody and ebullient, to the cinema of the past and the ferocious intensity of youth. "Bad Blood," nominally a neo-noir set in Paris in the near future, transcends homage to capture ineffable states of being. Denis Lavant plays Alex, a conjuror and card sharp who teams up with gangster Marc, played by Michel Piccoli. All-consuming passion is ignited once Alex sees Anna on a bus, only to discover that she is Marc's lover. She and Alex share a stunning, wordless moment, tethered together during a parachute jump — performed without stunt doubles. As we watch them float somewhere above the countryside outside Paris, this lavish spectacle becomes the perfect expression of the enormity of Alex's infatuation — and of Carax's singularly expansive, breathtaking cinema.
• "The Missing Picture" will be from 6:30-9 p.m. Sunday, March 1, in the Little Theater. How can a filmmaker portray incomprehensible barbarity, especially when he himself and everyone he knew and loved was directly affected by this horror? Rithy Panh ingeniously uses carved and painted figures to represent himself and his family — and many others — who had to flee Phnom Penh for agricultural labor camps on April 17, 1975, the day that the Khmer Rouge seized Cambodia's capital city. The title refers to the fact that almost all of the documentary footage — snippets of which is interspersed throughout the film — that exists from the Khmer Rouge's horrific four-year reign is nothing but propaganda that glorifies the party and its commander. What was never documented was the legions of Cambodians and their relentless suffering. Against intricately detailed dioramas, Panh's small clay human surrogates inexorably, almost magically, assume the qualities and dimensions of real people.
• "Farewell, My Queen" will be from 6:30-9 p.m. Monday, March 2, in the Little Theater. Benoît Jacquot's nimble, lush adaptation of Chantal Thomas's 2003 novel about the chaos at Versailles on the eve of the 1789 revolution is told not through the vantage point of the monarchs but through the eyes of Sidonie, the besotted reader to Marie Antoinette. "Your love of the queen makes you blind to her caprice," one of Louis XVI's historians tells Sidonie — and the pleasure of Jacquot's film is in watching various strains of discreet yet heated, deluded passionate attachment performed.