February 9, 2015
Ben Kohl invited to National Association of Student Financial Aid Administrators meetings on Capitol Hill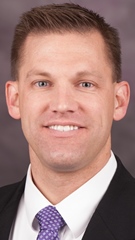 Ben Kohl, assistant director for the Office of Student Financial Assistance and president of Kansas Association of Student Financial Aid Administrators, was invited to the National Association of Student Financial Aid Administrators, or NASFAA, Advocacy Pipeline.
The program is an effort designed to bring the association's elected leaders and other members to the nation's capital to share on-the-ground perspectives with policymakers. Out of more than 20,000 members in the national association, only three members are invited each month to join the leadership in meetings on Capitol Hill, in Washington, D.C.
Kohl will attend meetings with the association on Thursday, Feb. 12. He was chosen to attend this month because he is the current president of Kansas' association and February is Financial Aid Awareness month.
"It is a great honor and privilege for me to be asked to help represent NASFAA, the higher education financial aid community, and the state of Kansas," Kohl said. "NASFAA has arranged meetings with three U.S. Senators to discuss issues and challenges of federal financial aid administrators. I'm excited about the opportunity to positively represent Kansas State University and the financial aid community of Kansas on Capitol Hill."