October 27, 2014
Eaton winner of online game 'Mapping the Ghostmap'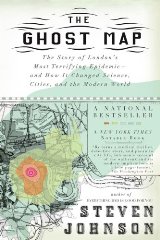 Muriel Eaton, sophomore in biochemistry, has identified patient zero, winning an online game inspired by the 2014 common book, Steven Johnson's "The Ghost Map."
Eaton was one of 257 players who participated in 224 individual challenges since the online game, "Mapping the Ghostmap," went live on Aug. 25.
The game was created by Ben Ward, instructional technologist, Information Technology Assistance Center; Joelle Pitts, assistant professor, K-State Libraries; and Dan Ireton, assistant professor, K-State Libraries. More than 40 students, faculty and staff from across the university contributed to its development.
"Players of the game navigated more than 200 puzzles, riddles, scavenger hunts and other challenges all over campus, in both virtual and physical spaces," Ireton said.
"Muriel completed more of these than any other student, and along with other high scorers is going on to form a student group dedicated to enjoying, understanding and developing games in a diverse and inclusive community."
To recognize her success, Eaton will receive a scholarship of $100 from the K-State Book Network for the spring 2015 semester, as well as a CD of steam punk music, a T-shirt from K-State Libraries and a copy of the game Pandemic from K-State Libraries.
For more information about Steven Johnson's book, event programing for the 2014 selection, and the K-State Book Network, visit the K-State Book Network website.