October 27, 2014
Bannister appointed as chair-elect of STARS College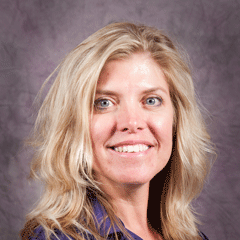 Housing and dining services congratulates associate director Stephanie Bannister on her appointment as chair–elect of the Association of College and University Housing Officers-International STARS College.
The association is an organization dedicated to enhancing the residential experience in postsecondary educational institutions worldwide. Among its members are housing professionals from more than 950 colleges and universities who serve an estimated 1.8 million students. The STARS College is an annual, three-day educational experience offered to approximately 40 to 55 undergraduate students who are considering a career in housing or student affairs. Charles Werring, former department director, founded the program in 2003.
As chair, Bannister will oversee STARS College site selection, faculty selection, participant recruitment and selection, curriculum development and more. She has served as STARS faculty since 2010.
Bannister joined the department in 1999 as assistant director and was promoted to her current position as associate director in 2007. She oversees the marketing and communications area, student living areas of departmental initiatives, apartment living and residence life. She teaches in the Staley School of Leadership Studies and in the graduate program for counseling and student personnel, and represents the Division of Student Life as the co-lead of the living learning initiative at K-State an effort to support K-State 2025.