October 22, 2014
K-State sociology professor to discuss social structures, the environment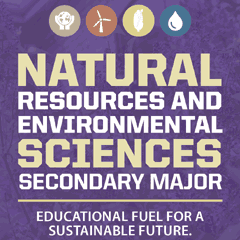 Matthew Sanderson, associate professor of sociology at Kansas State University, will give a public lecture at 11:30 a.m. Thursday, Oct. 23, in 348 Waters Hall. Please note the room change from past seminar locations.
Sanderson will discuss how sociology can be used to better understand the causes and consequences of natural resource use. His presentation will focus largely on the issue of water consumption as an example of how social structures and cultures shape resource use and are influenced by such use.
His talk is being presented for students participating in the capstone course of the natural resources and environmental science secondary major and is open to the general public as part of the Natural Resources and Environmental Science Seminar Series. Undergraduate students interested in natural resources, environmental science, and sustainability issues are especially encouraged to attend.
The natural resources and environmental science secondary major and its seminar series are generously supported by the provost's office, College of Agriculture, College of Arts & Sciences, and biological and agricultural engineering department.