October 14, 2014
Award-winning interior architect to present Oct. 16 lecture at K-State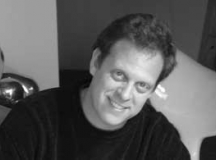 At 7 p.m. Thursday, Oct. 16, in Hale Library's Hemisphere Room, the College of Architecture, Planning & Design's interior architecture & product design department will host Jordan Mozer, the founder and co-owner of Jordan Mozer & Associates Limited. He will present "Walk-In Poems" as part of the APDesign Lecture Series.
Mozer also is the keynote speaker for the 2014 Interior Design Educators Council regional conference Oct. 16-18 at K-State.
For three decades, Jordan Mozer & Associates Limited, an architecture and design firm is strategically, has been located in a Chicago loft downwind from a chocolate factory. Prior to earning a degree in architecture, Mozer studied painting, sculpture, English literature, fashion design and product design, all of which inform his work on a daily basis. He is as attentive to the details of every client's business plan as he is to the look of each logo he designs and the craftsmanship of each door pull he carves by hand.
Since its founding in 1984, Mozer and his namesake firm have built an international reputation for consistently original, successful and newsworthy designs for clients as varied as Disney, Marriott, Volkswagen, Universal Studios, Asprey & Garrard, Steve Wynn, Lettuce Entertain You, Barney's New York and The Rolling Stones, to name just a few. The firm's team includes architects, designers, project managers and storytellers. They collaborate with their clients to create shops, entertainment venues, hotels and restaurants all over the world.
Over the past 30 years, Mozer's work has been included in books, magazines, newspapers, Web articles, museum and gallery exhibitions, and both public and private collections. Mozer has taught at the School of the Art Institute of Chicago, the University of Illinois, Chicago and the University of Illinois, Champaign; sat on numerous design juries and panels; and continues to guest teach, and to lecture extensively throughout the United States and in Europe.