October 6, 2014
First-generation college students celebrated in College of Education film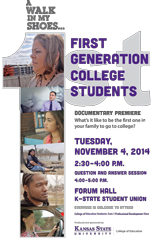 For the first time in more than 36 years, Narciso Ruiz is taking a day off from the Dodge City beef processing plant where he's worked since 1978 so he can watch his daughter in the College of Education's upcoming documentary, "A Walk in My Shoes: First-Generation College Students."
Angelica Villanueva, Ruiz's daughter, joins two successful alumni as well as five current preservice teachers from across Kansas who share their stories in the film dedicated to struggles and triumphs many first-generation students face. The premiere is Nov. 4 at 2:30 p.m. in Forum Hall at the K-State Student Union.
Seventeen members of Villanueva's family will attend the premiere, but one person's presence will be especially important: her father's.
"My dad is my hero," Villanueva said. "He said he is very proud of my accomplishments and that I was asked to be part of such a great documentary. He said our family has had to make lots of sacrifices, but they were all worth it in the end."
Sacrifices like coming home every day in pain — a pain Villaneuva experienced when she followed in her father's footsteps working briefly at the beef processing plant.
"I wanted to work in knives in fabrication just like my dad," she said. "The first day I worked on knives, I cried my hand hurt so bad that night. I remember calling my dad and asking him, 'Dad, my hand hurts so much and I can't stop crying because of the pain.' And he told me, 'I have worked there as long as I have and suffered the pain for you guys not to suffer.'"
The Ruiz family lived in a 434-square-foot, one bedroom, one bathroom home where they raised six children. Five of the couple's children earned college degrees and one has started local businesses.
"My story is just one of millions of first generation graduates, and I feel honored to have my story told," Villaneuva said. "This documentary is a celebration of the fact that hard work and sacrifices do pay off. I feel privileged in continuing a new tradition in my family as a college graduate. My older siblings were my role models, and now I am one to my nieces and nephews. So far, three have degrees and two are starting their college careers."
Villanueva was overjoyed to learn first lady Michelle Obama watched the film's trailer on Upworthy.com and shared her personal experience as a first generation college student in a post as a guest curator.
"I started crying and shaking — that's how emotional I was about it," she said. "I have admired Mrs. Obama ever since I heard her give her speech at the Democratic National Convention in 2008 and to know that she took the time to see this trailer and comment about it, I knew then I was part of something extremely special."